Sugarcane bowls for take away
Especially take away food requires disposable packaging solutions.
Read on
Here, environmentally and food-safe alternatives are in demand
Aluminium or plastic bowls not only create a large amount of durable waste but also contain substances that may migrate into food. Sugarcane bowls are perfect for take away food, catering, and various events.
A sugarcane bowl is heat and fat resistant
A sugar cane bowl may be flexibly used for hot and cold dishes. As it is fat resistant up to 130°C, it can be filled with freshly prepared dishes. A bagasse bowl is also suitable for the oven and heat resistant up to 220°C. In addition, the material can be put in the freezer with temperatures to -25°C.
Bagasse bowls protect resources
Bagasse bowls are a 100% natural product and the production does not require any additional cultivation areas. Bagasse consists of residual fibres of sugar canes that remain as a by-product at the sugar production. 127 sugar producing countries worldwide create plenty of residual fibres. About 34 tons of bagasse remains after squeezing 100 tons of sugarcanes. Bagasse is partly used as a material for packaging and cardboard or for environmentally friendly sugarcane bowls. As an alternative to paper tableware with plastic coating, it also protects valuable resources.
Customer survey 2021 – enter now!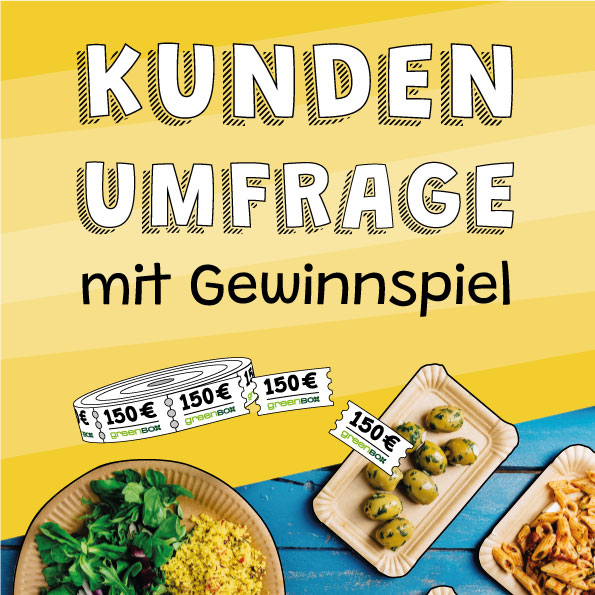 It's that time again: the 2021 customer survey is coming up. We want your opinion so that we can continuously improve our products and services! It's worth taking part: all participants will receive a 5 % discount code at the end of the survey. In addition, we will be giving away 10 shopping vouchers worth €150 each!
Thank you for your support and good luck with the raffle!
*The survey is only available in german!*