Sustainable Disposable Packaging
& Environmentally Friendly Reusable Packaging
Is your passion to provide guests with a culinary experience? Do you run a business with loving gift ideas, high-quality decorative items, or the like? Do you operate a sustainable unpackaged store? With our sustainable disposable and reusable packaging, we're addressing exactly you! Whether you're a restaurateur, catering agency, food truck operator, or shop owner - we package your food, products, and items! Starting with food service packaging for takeaway, outside dining, and the to-go market, many sectors now use greenbox packaging. Our packaging is made of renewable raw materials – the only sustainable solution, especially for disposable packaging. Sustainability is at the core of our actions. We want to keep our carbon footprint as low as possible and protect the environment. With our sustainable packaging, you can make your outdoor sales more environmentally friendly – for a greener future!
Wide range of packaging made from various sustainable materials
Conventional plastic packaging was already partially banned by the SUPD ban in 2021. Since our foundation over ten years ago, we have been committed to sustainable packaging in the food service sector. During this time, our own disposable and reusable solutions emerged – like our Palmware® range or our Häppy products made from bio-compound. Our packaging is made from sugarcane, bamboo, recycled paper, wood fibre, or palm leaves. There are plenty of sustainable alternatives for creating environmentally friendly packaging. Many of our disposable packaging is recyclable and/or biodegradable. Sustainable materials are particularly important for disposable dishes. The topic of reusable packaging is now also indispensable. Here too, we rely on sustainable raw materials. Many of our reusable packaging options mirror their disposable counterparts. So, if you use our disposable cardboard bowls, for example, there is a matching reusable product in the same size. Our reusable alternatives are dishwasher safe, microwaveable, and stackable. Plus, the corresponding disposable and reusable products are compatible. For instance, a disposable lid fits the corresponding reusable bowl. Practical and smart!
Our intention – pack in an eco-friendly and climate-friendly manner!
We live sustainability. That's why, as the first European supplier of food-service packaging, we offset all our CO2 emissions. Not because we have to, but because we want to. Therefore, our items are 100 percent CO2 offset – from cultivation, production, transport to disposal. We call this Climate Safe 360°. Furthermore, we try to keep our transport routes as short as possible. Hence, we purchase more than 50 percent of our items in Europe. Many products are adorned with trustworthy seals like the FSC® or the PEFC seal.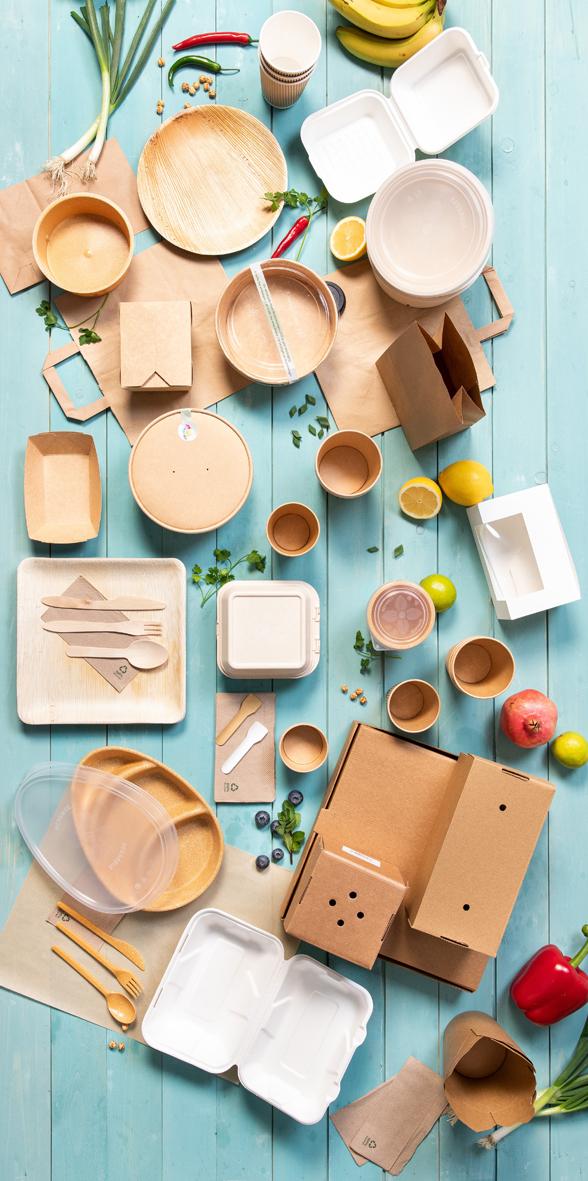 Our most popular categories
NEW in the Range
Our new items take us to the Christmas market this time – the new printed winter cups ensure a festive mood! To complement this, our sugarcane bowls are perfect for all sorts of hearty dishes, and for the final, personal touch, we offer our printable shopping bags.
Discover all new items now
Packaged in words - our blog articles