Soup containers for to go soup
We stock high quality paper soup containers, which are produced with a strong cardboard and available in different sizes. We offer white and brown soup containers to go as well as high quality soup cups with a rippled outer layer, which particularly insulates on the outside. We will assist in finding the right packaging.

Read on
Soup cups with membrane lid
You can order separate lids for our disposable soup containers. Various lids match with more than just one cup size. Besides simple cardboard lids we also provide high quality membrane lids that are vapour permeable because of their special production method. The membrane lids have small holes through which only hot vapour can escape. In this way, high and low pressure are regulated and the lid remains custom-fit on the soup container.
Disposable soup cups are produced in an environmentally friendly way
In order to protect the cardboard from penetrating moisture, our biodegradable soup containers possess an internal coating. This coating is made of the environmentally friendly bioplastic PLA. PLA is based on starch and produced without petroleum. All disposable soup cups are certified according to DIN 13432 to be compostable in an industrial composting facility.
To go soup containers without softeners and harmful substances
Polylactic acid is food-safe and completely tasteless. Furthermore, it does not contain any harmful substances such as softeners that may migrate into the food. This is particularly important with hot dishes. Especially during the winter time, a tasty hot soup can warm up even better than a hot drink.

Customer survey 2021 – enter now!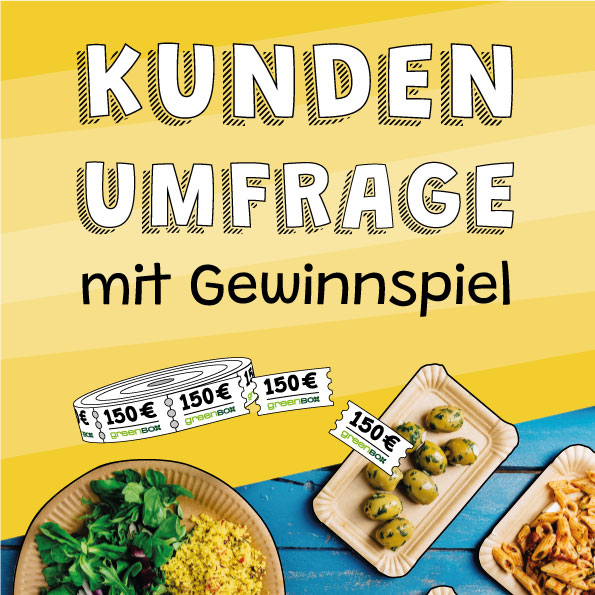 It's that time again: the 2021 customer survey is coming up. We want your opinion so that we can continuously improve our products and services! It's worth taking part: all participants will receive a 5 % discount code at the end of the survey. In addition, we will be giving away 10 shopping vouchers worth €150 each!
Thank you for your support and good luck with the raffle!
*The survey is only available in german!*